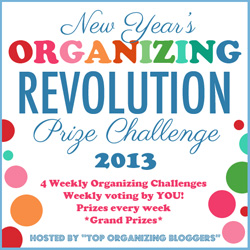 Welcome back to the New Year's Organizing Revolution!  We are moving on to the kitchen in this fun organizing challenge.
Admittedly, I was tempted to not participate in this one because of how monumental the task I had ahead of me was.  But when I took a look at my 2013 business goals again and realized that this would help me attain those goals, I suddenly got the urge to dive right in!  Isn't amazing what written goals and plans can do for you?!
So Here are the marvelous before and after pics!
 First, The Pantry:
Next, Cupboard #1:
Cupboard #2:
Teacups On The Wall:
The Laundry Cabinet:
And My Personal Favorite, My Homemade Kitchen Pot, Pan, and Knives Organizer:
Join me Wednesday for the beginning of my series on How to Organize the Kitchen based on how I organized mine:
Can't wait to see you there!
Do you feel like organizing your kitchen is too big of a task for you?